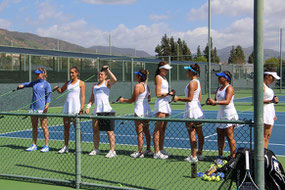 The weekend before spring break, we had tennis matches in Wichita Falls, Texas. In that weekend, we would play against Metro State, Colorado Pueblo, and Colorado Mesa. We left on Thursday from campus after our morning workout around 9:30 in the morning, grabbed lunch, and arrived in Wichita Falls around 1:30 in the afternoon. After arriving, we practiced at the tennis facility, which wasn't new to me due to the fact we already had regionals at this facility last semester.
We had a nice warm-up after a long car ride, and afterwards we went to the hotel. After arriving at the hotel, coach wanted to know what we would like to eat at Cotton Patch. We then texted him what we wanted to eat, and he ordered it online, so he could pick it up and deliver it to us at the hotel. We all loved this because we were all pretty tired from the long day.    
The next morning, we had to wake up early, around 6 am, because we had a double-header match that day. Our first match against Metro State was at 9 am, a team we struggled against in doubles last year. With this in mind, we came into the match knowing that in order for us to win, we would need to step up our doubles play. We ended winning the doubles point, which gave us the advantage moving on to singes. We then clinched 4-0, which gave us confidence moving for our next match against Colorado Pueblo in the early afternoon. Our match against Colorado Pueblo was also a 4-0 clinch. After our match, we went back to the hotel and stretched to prepare for our last match against Colorado Mesa the next morning. Coach brought us our food again like the previous night, but this time we got Chili's.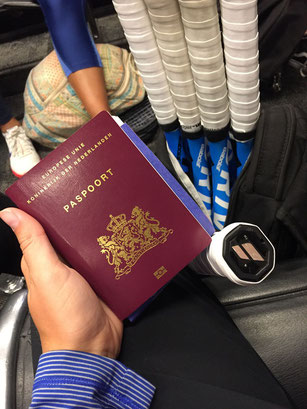 We had another early start to our day, due to our match against Colorado Mesa being scheduled for 8 am that morning. We ended up winning our match against Colorado Mesa, but it took more time to finish our matches because we only had four courts available rather than six. After the matches, we showered, ate, and left Wichita Falls around 5 that afternoon. We arrived at our hotel in Austin around 9 pm, where coach then ordered pizza for us to have a quick bite. At that moment it was a nice bite, but afterwards I realized the grease from the pizza was too much. After realizing this, I then went with Virginie to the hotel gym and walked it off for a little bit and finished off the night with some abs before going to bed.
We only slept for around four hours that night because we had to wake up super early to catch a flight to Los Angeles, California. Our flight was around 6 am, so we had to leave at 3:15 am to give coach enough time to drop us off at the airport, and then return the rental cars back to Enterprise Car Co.
Fun fact:
Because we wanted to leave after 3 am, we set our alarm for 2:50 am. That night was daylight-savings, so the clock would go from 1:59 to 3:00, meaning that 2 am never existed. Luckily, Valentina set her alarm at 1:50 instead of 2:50, so everyone in our room woke up at the correct time. However, everyone else didn't, so we had to go and wake them up.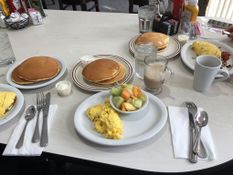 We flew at 6 am to Los Angeles. When we arrived, we had brunch at a restaurant coach Bizot had been to before. 
Afterwards, we went to the University of Southern California to get a tour around the campus and got to practice at their great facilities. After practicing we showered and it was already time to check in into our house coach rented for the California trip.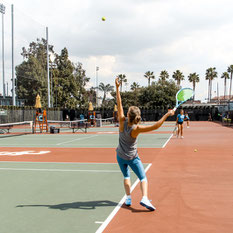 My parents had also flown in the same day we arrived in Los Angeles to watch us play during the whole Spring Break and meet up with our family in LA.
For dinner, my parents took the team out to a restaurant called Souplantation. We all loved it because as a whole, we try to maintain a healthy diet, and this restaurant is specialized in their salads and soups.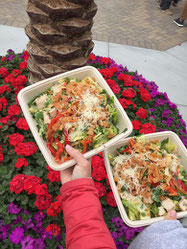 Monday was a very exciting day, due to the fact that we got the chance to see the pros play at Indian Wells tennis tournament. Some of the pros we got to watch play included Roger Federer, Kiki Bertens (NED), Jean-Julian Rojer (NED), Venus Williams, Angelina Kerber, Alexander Zverev, Gael Monfils, and many more. One of the unique parts of Indian Wells was their largest arena, known as Stadium 1, which is the second largest tennis arena in the world. For lunch, we ate at Indian Wells and because we weren't going to do any physical activity that day, I ended up choosing to eat healthy again and chose an incredibly tasty salad. 
It was a long day with beautiful tennis and lots of walking from match to match in each stadium, we then hopped back into our rental vans and drove 2 hours back to our house. On our way we stopped at Panda Express to eat dinner, which is a personal favorite of mine.
On Tuesday, Wednesday, Thursday, and Friday we played against five other schools, four of them being from California and one being from New York. On these days, we had breakfast in the house and we brought our own home-made lunches with us. For dinner, half the team helped cooking with the coaches, while the other half helped with doing the dishes.
On these days, we were mainly at the tennis courts, but after Friday's match we then drove to Laguna Beach and hung out on the beach for the day. We ate dinner at Laguna Beach and had ice cream at Gelato Paradise. It was so good, but I felt guilty after eating it.
That evening, we went back to the house and celebrated a successful trip full of amazing memories. We then then set our alarms for 2:20 am because we had to catch our flight from Los Angeles to Austin at 6 am again that morning.  
I had such a good Spring Break and I enjoyed having my supporters there to cheer me on. Not only was the experience amazing, but I also got a ton of footage for my YouTube channel.