Being flexible and keeping the focus was key lately. Without tournaments on the horizon, you got to keep your discipline and keep working hard. For many this was tough because they didn't know when the tournaments would be resumed. So, does it make sense to practice?
Coronavirus
Because of Covid-19, tennis complexes had to close in March and April 2020.
I had the opportunity to make my own tennis court at a manufacturing plant. Super awesome!! In these turbulent times, I got the chance to keep practicing. I was pumped to play tennis, even though the future of the tennis world was uncertain.  
In May, less restrictions were in place and at some point official practices were allowed in the Netherlands. When the complexes opened up, I looked forward to play on clay. Even though I make a pretty good indoor court, an official tennis court is still a different.
After a couple weeks of practice, there was a 2 weeks tennis camp at Hugo Ekker Tennis Academy . See the video below for some practice points:
First Tournament
Testing to see whether you improved can be measured better during an official match than in practice. That's why I immediately signed up for a tournament when it was possible. "LTC Zee en Duin - Het open" was the first tournament that I played.  
Strategy-planning and execution
My coach, Hugo Ekker, came to watch a couple matches. Before my matches we would have a strategy-planing conversation. Hugo told me this was the first match after a while, so it will probably not go exactly the way I wanted. Therefore, he advised me to focus on my movements and my feeling on court first.  
In my first match, I tried to win the point too fast. I wanted to dominate and that's why I made too many mistakes. 
This applies also to my personal life: often I want to achieve many things too fast, i.e. returns on investments, growing my ZG brand, etc. It shouldn't be forced because some things have to grow natural and organic.  
After I won the match, my coach and I analyzed. I took his advice of "being more patient" with me to the next matches that week. 
Because I wanted to get matchplay in, I singed up for 2 categories (DE2 & DE3). The DE2 is a tougher draw and in the quarter finals I had to play former nr 755 player of the world, Jade Schoelink. I lost 6-4 6-2, but I played pretty well.  We were even tied at 4-4 in the first set! 
I won the category DE3 !! It was an amazing feeling to put a title on your name again!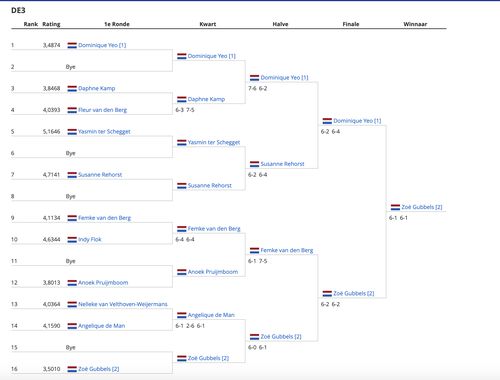 Tip : Be patient and wait for your opportunity