A day in the life of a Tennis Student-Atlete Zoë Gubbels
How intense is it to be a student-athlete? Are you performing well on tennis court? Do you get good grades in class? Is there any room to spend time with friends?
College tennis is intense. How is it possible to handle this hectic life? 
In this blog, you can read about a typical day in my life as a tennis player at Angelo State University.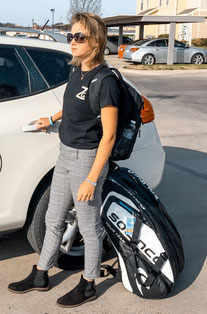 For the more visual people, I also have a video about a day in my life, where you can watch my daily routines. 
 How my Tuesday's/Thursday's look like:
6:45                      Alarm
7:25                      Leave with teammates to campus for morning weights
7:45 - 9                Practice
I make my own protein shake after the work out, and bring an extra shirt and put deodorant on to be ready for class. There is no time to shower. 
9:30 - 10:45        Class
10:45 - 12:30      Free time. Normally, I go back to my apartment (for about one hour) to pack my bag for tennis practice, change clothes, do some homework, and make my lunch. 
12:30 - 3:15         Class
3:30 - 5:45           Tennis practice
5:45 - 6:15           Training-room, where we get the treatment after practice.
6:30                        Home. Time to finally shower, eat, and do homework.
You might think that this is not such a special schedule, but school gives lots of assignments and gets harder and harder as you progress in your degree. I also choose the harders major in the business academics: accounting, so I need to work hard for it.