My freshman year came to an end! Our season started once we were in spring season, so it was a super busy time for us. The coach rented a van, so we could compete in multiple states. Consequently, we have traveled a lot by car, which brings its ups and downs. The girls in our team were always singing, dancing and laughing in the van. Well, not always because some felt asleep. I do not know how they did that because I cannot sleep while being in a moving vehicle. The downside of traveling was missing school and the not so comfortable long rides. Our longest trip was to Denver, which lasted for 11 hours.
Tennis in America has been a real experience for me because it is so different than at home. In the Netherlands, it is normal to socialize and have a drink with the opponents prior to playing tennis with both teams. But, that is a no-go in America. The atmosphere is much more rivalry. The tennis players are constantly screaming to cheer each other up. Even on court, just to show support for fellow teammates. In the beginning, I had to get used to this new type of atmosphere, but when I arrived in Holland, I realized I missed it.
We played against 22 other schools in total, where I played at the 3th or 4th place in the line-up and at the 2nd place in the doubles. At the end of the semester, we all felt that it had been a tough season physically. However, we gained a lot of experience and accomplished some achievements. Over the course of last year, I got the following awards:
- Sportsmanship of The Year through Lone Star Conference
- Hollands Award: I represented the tennis team the best at our university.
- Honorable Mention doubles with Virginie Becht through Lone Star Conference
- As a team, we reached the 8th spot in de South Central Region
- ITA/Oracle Team Ranking 36th position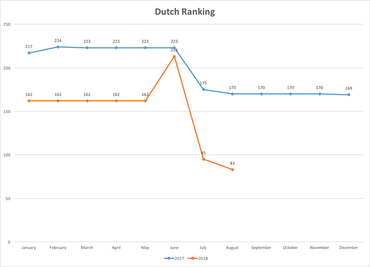 In May, I took the plane to Holland to be home for 3.5 months. In the beginning, I played matches for T.V. Heerhugowaard. After a couple weeks, I started practicing at Hugo Ekker Tennis Academy. It was a good moment to have a fresh set of eyes on my tennis strokes. The first weeks, I was practicing every single day and later I combined it with playing NRT-Tournaments. Last year, I reached the 169th place on the National Dutch Ranking. However, this year, I ended up at the 83th place. America and Hugo Tennis Academy helped me in my development.
Next to tennis, I also did other nice things. I went to Paris for a couple days to go to Roland Garros and being a tourist, of course. I have seen my family after a long time and arranged get-togethers with friends. But, I also spent a lot of time finishing 3 summer school courses.
My goal is to make some better video's in America for my YouTube channel. So, keep following me :)