After 4 successful years of college tennis in West Texas at Angelo State University (ASU), I took the opportunity to stay for my 5th and final year in America. This year, I wanted to experience a big city. I applied for a couple schools, and finally made the decision to go to the University of Houston (UH). This university is a top-tier research school.
At UH, I wanted to try out for the tennis team, but that didn't go through. Therefore, this last year was different than my others, since I wasn't part of a college tennis team. You might wonder how I've spent my time in Houston. Read more about that in this blog. 
Fresh Start
Of course, I missed the people I have met along the way at ASU. New beginnings and fresh starts can be scary and lonely. However, I quickly met new people in Houston.  The first connections that I made, were tennis related. When I moved all of my belongings to from San Angelo to Houston in May 2021, I explored the big city. The volunteer coach from ASU connected me to the coach who teaches at Homer Ford Tennis Center. He was the head coach of the Rice tennis team for 7 years.
Once I officially lived in Houston in August 2021, I met up with that coach. Through him, and after playing some tournaments, I met other players as well. If you play tennis almost everyday, you are surrounded by people with the same hobbies. This already creates a feeling of belonging.
Tennis
In general, student-athletes get 4 years of eligibility to compete in America. However due to Covid-19, athletes received an extra year of eligibility because of a cancelled 2020 season. I loved the experiences in America and the great opportunities it has. If I wouldn't have taken the opportunity to stay in America for a 5th year, I would have regretted that later in life. 
I graduated with my bachelor and MBA degree from ASU in May 2021,  and I was ready to go to another school for my 5th year. Transferring to another school can seem overwhelming. Therefore, you have to start your search early on. My goal was to go to a division 1 school, but all the tennis programs are really competitive to get in. 
There are many players with an extra year, and players still graduating high school, so the tennis programs were filling up quickly.  Some people might have thought playing for a D1 was a long shot, but I practiced hard for it.  At Hugo Ekker Tennis Academy,  I got the proper training and became mentally and physically ready. 
Playing for UH didn't happen, but I eventually got the opportunity to practice with another division 1 team, Prairie View A&M University (PVAMU). Since these are quite long stories, you can click on the hyperlink to read more about it. 
Every disadvantage has its advantage. Not being part of a tennis team, doesn't mean I won't touch a racket. In fact, I could make my own schedule and still play a lot of tennis. The Fall semester, I practiced every Friday with the PVAMU team, and got great tennis sessions in with hitting partners on other days. The Spring semester was a bit different. PVAMU had a lot of matches, so it was pretty fluid when I would come out and hit with the team. Besides hitting with the team, I still got private lessons from the former Rice tennis coach and I decided to play a tournament every month on my own. It's a great opportunity to play and travel a bit throughout America.
You can get an impression of my tournaments played in the school year 2021/2022: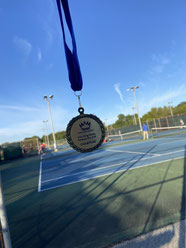 10/17/2021 Houston
In October, I played a UTR tournament named King Daddy. I became the winner of my draw! Players in this tournament can be either guys or girls. I had to play against guys only. It was a great experience. 
02/11/2022 Dallas
Since I want my car to survive all the way till end of May, I thought it was smart to go by plane to Dallas. There were two people who asked if I played professional, since I was wearing ZG sports clothing and carried a couple tennis rackets with me.
This tournament took place in one weekend only. It started on Saturday and I lost my first match..  The weather circumstances weren't favorable because it was a couple degrees above freezing, strong wind, and it was literally snowing at some point. However, every player had to deal with it, so there are no excuses.
After losing the first match, I got moved to the back/consolidation draw in order for players to have 2 guaranteed matches. This way, they make it worth it to come play the tournament, in case players have to travel far.
All the 3 matches afterwards were pretty close. I won them all and became the winner in the back draw. It was great to experience the tennis traveling lifestyle.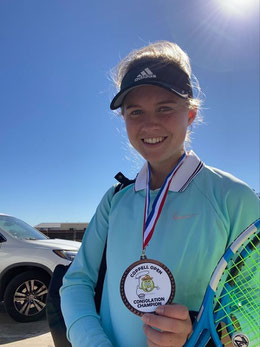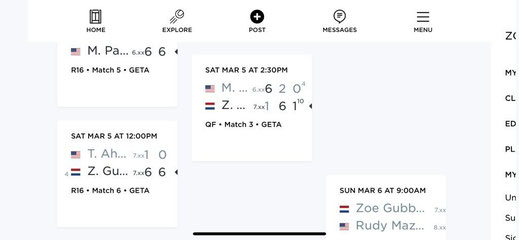 03/05/22 Houston
I played a UTR tournament at Giammalva Racquet Club. In Texas, most tournaments are mixed gender, but in my first and second round I played against a girl. The second round was really challenging. My opponent was 14 years old. The people from the tournament were her coaches. I won in a 3th set.
Next day I played the semis, and I played great but my opponent was stronger. After this match, I played for the 3rd/4th place against Sebastian, a player who I met at a previous tournament. He became my friend and hitting partner, and now I had to compete against him. I lost this match 8-10 in the super tie break, but I played amazing.
4/19/2022 New York City
One day after I arrived in New York, I received an email that the tournament got cancelled because too few people singed up for it. I was staying at my friends/former doubles partner from Angelo State University. 
Even though I was sad at first, now I had more time to explore the city and still play some tennis. 
School
Master program - University of Houston
Fall 2021, I started the Master of Science in Business Analytics at the University of Houston. The university was open in a hybrid format, meaning the courses usually had the option to attend class in person or to follow the lecture through Zoom or MS Teams. For me, the the courses in the Master's Program were tough, so I preferred going to class.  At my previous university, I've had multiple excel classes, so I was pretty confident in that area. However, this degree focused on other programming applications. The programs I had to learn were: R, Python, PowerBI, Tableau, SQL. 
What did I learn? 
I've learned how to make visualizations, regressions, and predictive models, and got insights on basic database knowledge. Thanks to a growing number of affordable tools, translating  information into visuals is now easier for people, regardless of data skills and/or design skills. A drawback of data visualization can be that the information can be misleading. Therefore, we are learning with statistical models what is significant and what is not.
In addition to visualizations, in class we also learned how to make predictive models. A predictive model aims to forecast a future outcome that is generated by known results from the past. This in-dept insight helps the decision making process within businesses. 
This master's program is really challenging for me. However, I do see the benefit of what I am learning. I have two more semesters left until I finish this degree. May 2023 is my expected graduation. A little later in this article, you will read that I am moving back to the Netherlands, but I will complete my studies remote. For graduation, I intend to come back to Houston. This would be a great chance to see my friends again. 
Besides being enrolled as a full time graduate student, I was involved in other organizations on campus. Read more about that in the next couple paragraphs.
Student Organizations
In the beginning of each semester, there is a "Organization Fair" in one of the business buildings. At this event, multiple student organizations show what they do throughout a semester and tell students how to get involved. 
I went to the fair and I was interested in multiple student orgs. In my opinion it's tough to be actively involved in multiple, so I had to make a decision. Real estate was on top of my list, so I choose to be part of the Undergraduate Real Estate Scholars. Event though it's usually for students who are still in their bachelor's degree, they told me I am welcome.
At this organization, I met like minded people. They are eager to learn besides their regular classes in school. Nobody is forcing you to be part of an organization. It is a students choice, and therefore they are usually more dedicated with their time and effort.  
Undergraduate Real Estate Scholars (URES)
Started in 2014, the goal of URES is to help students at the University of Houston who are passionate about Commercial Real Estate to develop professional, technical, networking, and interviewing skills. In the picture on the right, you can read what this organization taught us about real estate through workshops, guest speakers, and property tours.  A couple guest speakers were from CBRE, STRIVE, HINES, and many more. 
The officers of this organization also highlighted when there were professional events in Houston,  when positions were open for internships, and what other organizations in real estate are active in Houston. In addition to this, URES students got invited to a couple luncheons. These were mostly free for us students.
I would highly suggest students joining an org. You meet people who are willing to go the extra mile in their free time. They want to learn the same thing as you, which creates a common ground.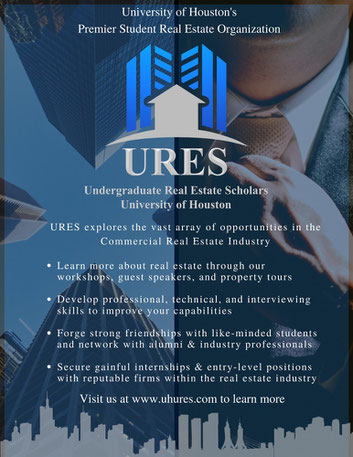 Internal Audit Student Association (IASA)
 In my "intro to programming" class, I met my classmate Sahar. At the time, she was the president of the Internal Audit Student Association. She told me she was still looking for officers, since there were some openings that had to be filled. Corporate Relations Officer sounded really interesting. This role makes you the face of the organization, where you reach out to auditing companies to introduce them to the members of IASA. 
Some tasks that I offered help with:
- Reaching out to companies to become Guest Speakers for IASA.  (BMC Software, Weaver, Chevron Phillips, EY)
- Creating the newsletter. Since the marketing positions wasn't filled, I helped with this because I have some experience with Mailchimp.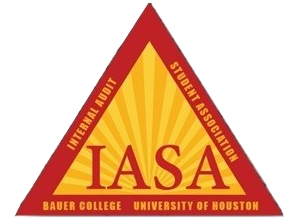 Leisure
Goodbye America
My intention was to go to America for 4 years, and I already extended that with an extra year (Covid year). My college tennis years in San Angelo have been amazing, but my last year in a big city were super special as well. I've stayed busy because I wanted to make most out of it everyday.
After 5 years  it's time to come back home to be closer to my family. 
It's hard to leave behind a life that I have built up for the last couple years. Goodbye was hard. Really hard.
Going to America alone when I just turned 18 years old, taught me so many lessons. However, there are so many more things to learn. 
Hello Holland
Now I will go back to the Netherlands. I have 1 more year left in my degree and will complete that remote. Besides studying, I will work part time and still workout/play tennis. 
America has treated me well, and I will definitely come back a couple times. Now, it's time to start my career in the Netherlands and build up my life there.