Do you have a drive to be successful? Did you have to start from zero? Well, so did Nick Bollettieri. After watching his documentary, I picked up a couple life lessons and wanted to write about them. Hopefully, this will allow you to reflect on your own life.
I saw Nick Bollettieri's documentary on Showtime and had to click on it. As a watcher, you get a small peak in his life and how he grew up. It is amazing how he found tennis as a way to make a living. He didn't know anything about the sport, and yet he became one of the greatest coaches in the history. All due to his drive to be successful.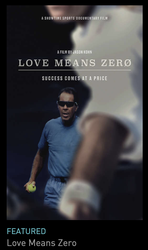 Climbing up
Climbing to the top comes with challenges and Mr. Bollettieri didn't handle all of them in a nice manner. He said that he barely thinks and rather acts. To a certain degree this is good for an entrepreneur / coach, but one just needs to be careful to not hurt people.
Work-Life Relationship
The title of the documentary is creative: "love means zero". Love is a term used in tennis to describe that one of the players didn't get a point yet in the game.
Also, Nick Bollettieri's tennis passion and his attachment to his academy, didn't allow him to be home often. He said he had 8 ex-wives in his life, probably because all of them had trouble with his tennis-committed lifestyle.
In July 2020, I wrote a blog: How did I balance tennis, study, and extra activities? It talks about how busy I am in America with all my activities. However, what I've learned over the past couple years, is that I value a healthy work-life relationship. I know you need to go all in if you want to achieve something big, but I don't want to lose sight of my family.
No regrets
Nick Bollettieri lives with no regrets and that is something I also strive for. In the moment, you act with the knowledge you have in what you think it is best.
As Akina Chargualaf wrote on How to Live Life With No Regrets on Lifehack: "Accept That You Are a Work in Progress. Every day we are figuring out more and more about who we are or what we want in this one life that we live. The greatest gift you can give yourself is acknowledging that you are a human being, and perfection does not exist. "
Make sure you have a clear vision in mind. Thought focus, most actions would more likely be aligned.
Are you interested in reading one of my latest blog about having ambition, creating dreams, and growing as a person? Click here to read the 10 tips for ambitious people.