Going to Miami for a few days as a holiday, but actually built some connections.  
Life can be so precious, also in the least expected moments.
With my teammate, Ena, we spent Thanksgiving with her best friend in Dallas. After a couple days, Ena and I took off to Miami. We wanted to reward ourselves with a nice destination to relax and rewind after a tough semester in school & tennis.

Already from the moment we were in the plane from Dallas to FLL, we met some people who were sitting behind us. Besides exploring Miami beach and Miami downtown, we were growing our social network.
Besides meeting several tennis players, we met other business-minded people as well. We surrounded ourselves with people with similar goals: playing tennis & being in business.
According to Topresume1: "Networking will help you develop and improve your skill set, stay on top of the latest trends in your industry, keep a pulse on the job market, meet prospective partners, clients, and gain access to the necessary resources that will foster your career development."
Even though Ena and I are in the beginning of our careers, we could connect with these people, thanks to our college background in business. In addition to that, having real life ZG product experiences also helped. With these business people, we talked about their journey and our goals, and they answered all of our questions. It was amazing and inspiring for me as 21 years old college student to hear stories from other experienced entrepreneurs.
We were super grateful for our experiences in Miami. By being surrounded by business minded people, motivated us even more to work harder for a succesful future than we already were.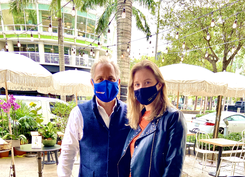 With this blog I wanted to tell that also unexpected events can motivate.
Is there something that happened in your life lately that inspired you to even work harder?
Let me know in the comment box below. 
---
Do you want to hear what I learned exactly?
Sign up for the ZG newsletter and get once a month an inspiring email!
1. https://www.topresume.com/career-advice/importance-of-networking-for-career-success