Another year flew by! To make sure you understand my journey in America, I want to explain some college concepts really quick. In a year, there is a Fall and a Spring semester. For tennis, Fall is the off-season and Spring is where all the team matches take place. Off-season mainly consists of practices because it is a preparation time for the real deal/team matches. However, there are some tournaments going on in the Fall with the focus on individuals and not on the team.
Usually is don't rain that much in Texas. However, this fall it rained significantly more than usual. Unfortunately, some of the tournaments got cancelled due to the rain. This resulted in a little less playtime in general, but that wouldn't mean we weren't ready for the Spring. When Fall ended in December, there is a one-month break. During the break, I went back home to spend time with my family for Christmas and New Year's.
New Year, New Opportunities
Back in San Angelo, we practiced a lot and stayed focused on our bodies. We added stretching to our program. It was going to be a long season, so better treat your body right. After a month of practices, the matches started. I didn't play well in singles against the first two tougher schools. Those matches were recorded by the coaches, so I could watch it back. It is not always fun to see yourself play because there are so many moments you want to do something different. I rather watch videos of professional tennis players, but I have to admit that you can learn a lot of watching yourself play. Being critical could be painful but helpful. After those two matches, I knew it had to get better. And it did. I played pretty well and at some point, the assistant coach told me I was in a winning streak.
Awards
In my freshman year, we had to get used to college tennis. During that year we learned a lot. We had big goals for the Sophomore year. If you have goals, you have something specific to work for. I can tell you happily, we achieved our goal!
- Lone Star Conference regular season champions
- A First-Time National Team Ranking of 12th in the Division II
- Oracle/ITA Women's Rankings Top 50 National Doubles Ranking with Virginie Becht
- Lone Star All-Conference Singles
- Lone Star Conference All-Academic
- Alpha Chi Honor Student (academically)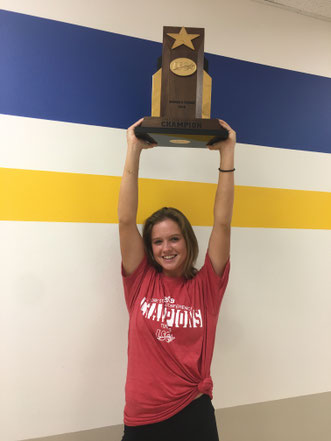 I am happy to see what we achieved, but I am more excited about what is coming.