There is no such thing as an off-season in tennis, or for any sport in college. When you are not in the regular season you still have tennis, strength, and conditioning training as well as unsupervised practice options. The only difference is that you aren't out on the road for matches every weekend.
After the fall season, we have winter break. Most players go back home, whether that is in another country or in America. The key during this break is to keep momentum. It might be tempting for some players to get spoiled back home, eat too much, and don't work out enough. If you stop working out, then the whole preparation season (fall) is lost. Everyone needs to be on the same boat and make sure they maintain their strength and tennis feeling. 
Going back in January
We get back in January to start tennis practices even before school starts. That is pretty nice, getting to practice and don't have to worry about school assignments. Unfortunately, that will always only last one week :). After that week, we get thrown with deadlines, exams, and group projects. It is rough to combine it at some times, but it is manageable. Some people asked me; "how do you combine your school with tennis and social life?"
I will write a blog about this soon!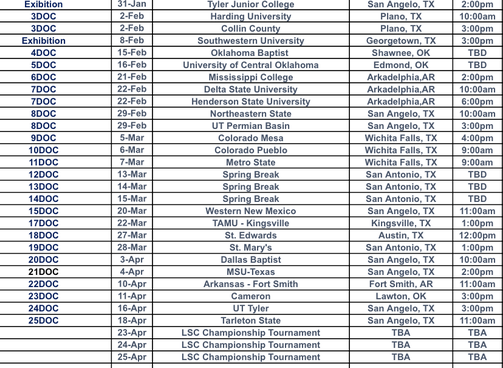 We have around one month to fully prepare ourselves before our matches start. The picture on the right shows you how many matches we have from February though April. It depends on how we do in those, if we proceed further to Nationals in May. 
There is a whole college tennis structure that I had to get used to and needed to understand. I believe I still don't understand everything a 100%, but I will tell you what I know.
There are different types of matches
- Exhibition : that doesn't count for anything
- Conference matches: matches against schools in your conference.
- Region matches are matches are against schools that are connected to us more geographically but are out side of our conference.
- Rest of Division 2
It's more like an onion with layers. So, you have your conference, your region, the rest of Division 2. All of those contribute to your national ranking.
The region matches are important for your regional ranking which helps you get a bid to NCAA championships.
The conference matches help determine the seed of the conference tournament. If you win the conference tournament you get an automatic bid to NCAA national championships regardless of your previous results.