For the organization of the Grand Slam tournament in New York, the US Open, it is certainly not the most fun time. Yes, because of Corona…. Among the ladies, Ashleigh Barty (1), Simona Halep (2), Elina Svitolina (5), Bianca Andreescu (6), Kiki Bertens (7) and Belinda Bencic (8) have all withdrawn from participating in the US Open in New York. Those are 6 out of the top 10 players.
The men are missing 3 players from the top 10; Rafael Nadal (2), Roger Federer (4) and Gael Monfils (9).
I already said it at the beginning of this blog: these are crazy times with the corona virus. What went thought the players minds when have to decide if they were going to play the US open?  And will they ever find out if they made the right choice?
Your daily life
And that brings me to an important personal question. For you too. You did not have to make the choice yourself whether or not to play tennis at the US Open, but in your own daily life, you also have to deal with challenges and issues that could even become a major dilemma for you.
How do you deal with your choices?
Most likely, people make decisions in their own interest. With the coronavirus, your choice affects not only yourself, but so many others as well.
The biggest reason not to play is because of your own health and that of others. This is about not wanting to get sick and not having to go into quarantine after an international flight. I can imagine that for some players it is also nicer to stay in Europe and train on clay in preparation for Roland Garros.
Of course, there are also reasons to play. As Matwe Middelkoop said: it is his job. He can really use the money and points for his ranking. Money doesn't grow on trees and you need to work for it to make an income. That only works when traveling to the Big Apple. 
What is your direction in life?
There are several reasons and I think that "not playing" or "playing" does not mean that you are making a good or a bad choice. It is wise to see what your course is and what your goals are. The tennis top players have a good team around them. They have probably thoroughly discussed what they should or should not do.
Like these players, I also had to choose whether or not I would travel to America to play college tennis. After all, I did go! If you follow the news, you will know: America is not really the most pleasant and safest place on the planet at the moment!
In the coming months I will write why I made the choice to go anyways 
. Now, I am in Texas and I am already busy working out and with my Business Master. I'm looking forward to watching the US Open on TV!
I wish Arantxa Rus, Demi Schuurs, Jean-Julien Rojer, Matwe Middelkoop, and Wesley Koolhof a lot of success in New York.
Of course, I have a tip for you at the end of this blog:
If you face a dilemma, it is best to ask yourself whether your decision is in line with the course that you have set for yourself.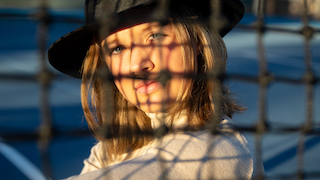 Want to stay updated? - Sign up for the ZG Newsletter