I had a lot of questions prior to coming to America to play college tennis, and through my experiences over the past 3 years they were answered, for the most part. There are always things you never really know how they work until you find it out yourself. I would love to give you an insight view on what college tennis is really like.
Tennis
College tennis is a good way to compete at a high level and through many competitions play face a wide variety of opponents. A team normally has an average of 8 players, where you compete against a lot of other schools. Spring season goes from January till May and that is when the team matches take place, as fall is more individual. We have a mix of home and away matches. For away matches, we go by bus or sometimes fly to compete against other universities. When a match is several hours away, we tend to leave the day before the actual match takes place to be fully rested.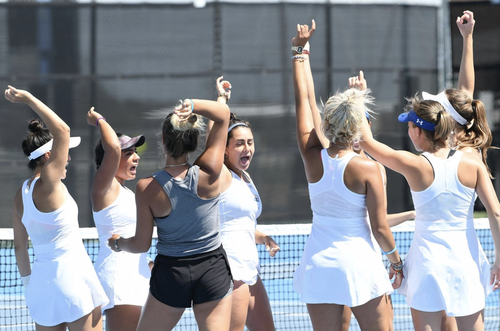 How a match day looks like: 
Depending on what time our matches are, as a team we eat breakfast or lunch together 
We drive to the tennis facility
Warm up starts usually one hour before we start the official matches
When it is time, we start with 3 doubles matches followed by 6 singles matches
Like I said, a day consist of 3 doubles followed by 6 singles matches. The team that wins at least two out of the three matches get one point, whereas the singles matches count for one point each. The first team to a total of four points automatically wins, however, we tend to play all the matches until they are done. So essentially, it's a race of time.
If you are used to playing tennis in silence, college tennis might at first be a shock. Players and spectators are making a lot of noise to cheer on their team. Normally at one's home game, there are more fans cheering on the home university to win. I definitely wasn't use to this, as in junior tennis it is the complete opposite because it's everyone is playing for themselves.    
For more insights, you can go to the official USTA College Tennis website. 
School
Whether you are a foreign or American student, to get accepted at a College/University you need to take the SAT.
Once enrolled in school, you need to make sure you keep up your Grade Point Average (GPA) in order to compete because the NCAA requires good grades in order to stay eligible.
The way the university system works in very different to what I was used to in the Netherlands. The structure and requirements are complicated but once you have experienced it, it is very easy to comprehend. Basically, you can make your own class schedule and there is not an exact timeframe in which you need to graduate in. Normally, it takes 4 years, but it is flexible. 
Why College Tennis?
For me, and for many other international students, this is a great opportunity because it allows us to keep on pursuing and advancing in tennis while earning a degree. In Europe, I would have not been able to have done both. I could play tennis just for fun if I decided to go to school, but not as intense as in America.
It is also great to learn a different language. Before coming the America, my English wasn't the best because I never really needed to speak it back in the Netherlands. However, I was forced to speak and write it here, and that improved my English in a relative short amount of time. Even though, I still have a big accent, I know I got better in English. After 2 years, I even noticed that I was thinking in English. 
I discovered and got to experience a new culture. I am in Texas and I got to know so much more about the people over here. It makes you a well round person if you get to see other perspectives.
Spread your wings, be independent. Going overseas is an experience because you don't know anyone. In the beginning, I still needed my parents' recommendations and ideas. Slowly but surely, I made more and more decisions by myself.  
If you are doubting whether to play college tennis in America or not, I recommend it and think you should take the chance!